EAB Members: Prof. Leonard Barolli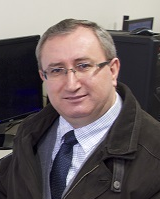 Leonard Barolli is a Full Professor at Fukuoka Institute of Technology (FIT), Japan. He received the Ph.D. degree from Yamagata University, Japan in March 1997. From April 1997 to March 1999, he was working as a Post Doctoral Fellow Researcher of the Japan Society for the Promotion of Science (JSPS) at the Department of Electrical and Information Engineering, Yamagata University. From April 1999 to March 2002, he was a Research Associate at Department of Public Policy and Social Studies, Yamagata University. From April 2002 to March 2003, he was an Assistant Professor at the Department of Computer Science, Faculty of Engineering, Saitama Institute of Technology (SIT), Japan.
Prof. Barolli was an Editor of the Information Processing Society of Japan (IPSJ) Journal, and he is serving in the Editorial Board of many International Journals. He has been a Guest Editor for many Special Issues and engaged as PC Co-Chair and General Co-Chair of many International Conferences. Prof. Barolli is the Steering Committee Chair of the International Conferences AINA, CISIS, BWCCA, INCoS, IMIS, NBiS, EIDWT and 3PGCIC. He is also organizer of many International Workshops such as MNSA, HWISE, WAIS, TwC, BICom, EDCS, NTCCA, NGWMN, R3IC and SMECS. Prof. Barolli has served as a reviewer for many International Conferences and Journals.
He has published more than 1,100 papers in Refereed Journals, Book Chapters and International Conference Proceedings. For more than 25 years, his research has been supported by JSPS Grant-in-Aids for Scientific Research and other Japanese Foundations.